BOOKING IS NOW OPEN


---
For the 2014 London Classical Pilates Event with Kathryn Ross Nash.
March 1-2nd, 2014
---
Limited Spaces Available
As of Feb. 15th, 2 spaces free.
£200 Deposit holds your place*
Call us now on +44 207 372 3490 or email
info@nypilates.co.uk to book.
BACS details for UK residents
NY PILATES
SORT 400727 A/C 51428500
Acct Info for International attendees;
NY Pilates
Swift MIDLGB22
IBAN GB65MIDL40072751428500
See bottom right for full schedule.
Private Sessions
We only have 1 private session slot left with Kathi; 4:30pm on Sat March 1st.
Observation is free for full weekend attendees but we please ask that you are discreet. One day attendees £20.
Friday Privates are held from 12:30-6pm.
*£200 deposit is non-refundable.
---
Kathryn Ross Nash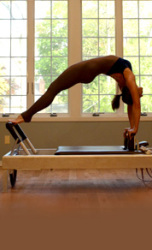 Kathryn began her Pilates training in 1982 and has had the privilege to study with First Generation teachers Romana Kryzanowska, Kathy Grant, Sari Mejia Santo, Jay Grimes and Edwina Fontaine. She was a Certified Romana's Pilates Level 2 Trainer and a Guild Certified Feldenkras Practitioner and was a principle dancer for ten years with Ballet Hispanico of NY, where she often returns to re-stage ballets. She holds a second-degree black belt in Te Kwon Do and an undefeated AUU sparring record.
Kathryn worked closely with Romana for many years. She is the only woman to demonstrate on both the Romana's Pilates Mat DVDs and the Legacy Series DVDs. Romana is quoted about Ms. Ross-Nash, saying "her work is like ice cream" and she is one of her best, her "Star of Stars."
Kathryn appeared with Romana in Pilates Style Magazine and has been featured in the magazine many times since and served a writer for it's blog and magazine. She is an often-quoted expert whose advice on the method is sought after worldwide.
Know throughout the industry for her purity and devotion to the work, Kathryn's client list spans the entertainment industry. She was honored to be the first Pilates instructor to train the dancers of the Vaganova School in St. Petersburg Russia and has taught in Chile, Australia, Spain, Russia and throughout the United States.
Kathryn currently was appointed Chair of the Authentic Pilates Union and has owned and operated the American Body Tech Pilates Studio since 1992. She is the creator of many innovative workshops including: The Red Thread tm, he Add On Mat tm, Fix Your Feet tm, Connection to the Jump tm and Variations on a Theme - Mat & Reformer tm. Her DVD, Kathryn Ross-Nash New York Pilates and book, Fix Your Feet- Using the Pilates Method have been acclaimed world wide.
"My favorite thing in the world is to be able to teach the work I believe in so strongly, as my teachers so generously gave it to me," says Kathryn Ross-Nash.
---
---
---
2 Day Pass
£400
1 Day Pass;
Saturday or Sunday only £220
Matwork only;
(All Masterclasses are Mat based)
£45 per hour class
Privates £150. Duets £100 each person.
---
Full Schedule
Saturday, March 1st 2014
Masterclass with Kathryn Ross Nash
10-11am
Workshops
11:15-1:15pm
NEW EXCLUSIVE LONDON WORKSHOP
Anchor and Opposition - The Two Way Stretch at it's deepest level.
1:15-2:15pm
LUNCH
2:15-4:15pm
Fun on the Caddy!
Leg Stretch Variations
Roll Back Bar and Push Through Bar Variations
4:30-5:30pm
Private Available
7:30pm Organic Dinner at Hugo's. All are welcome.
£30 for two courses.
---
Sunday, March 2nd 2014
Masterclass with Kathryn Ross Nash
9:30am-10:30am
Workshops
10:45am- 12:45pm
The Red Thread - When is it safe to progress the client to the next level of challenge? The Red Thread de-mystifies the work by helping us to understand the root of each exercise.
12:45pm-1:15pm
Lunch
1:15pm-2:15pm
Hands On Your Man - Do we need to expain?
2:15-3:30pm
Connection To The Jump -
How to build a jump from the ground up.
---
Click on the link below for discounted rate of £126 per room per night for the London Maida Vale Marriott hotel. This price is good for a single or double room and does not include breakfast.
This rate is good for any night from Feb 27th-March 2nd.