Daphne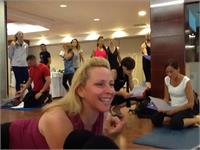 Daphne Peña-Director/Owner of New York Pilates. Personally trained and certified by Romana Krysanowska, Daphne opened London's first Authentic Classical Pilates in 2000. Since then, thousands of clients have benefited from training in this original method on the highest quality Gratz equipment. New York Pilates London is known as the centre of excellence for training in Classical Pilates.
Daphne instructs the following:
If you've never done Classical Pilates on the mat, here is the place to start!




A fast paced Intermediate class with some advanced exercises. Clients must be a full intermediate to join.




A class with a dynamic beginners series, then a breakdown of intermediate exercises in the second half. Clients must be very familiar with their beg series.