Daphne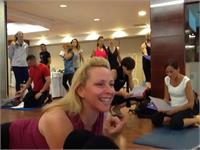 Daphne Peña-Director/Owner of New York Pilates. Personally trained and certified by Romana Krysanowska, Daphne opened London's first Authentic Classical Pilates in 2000. Since then, thousands of clients have benefited from training in this original method on the highest quality Gratz equipment. New York Pilates London is known as the centre of excellence for training in Classical Pilates.
Daphne instructs the following:
We teach open mat classes to various levels of knowledge and strength. Having an understanding of Classical Pilates is advised.




A challenging beginner's workout which also focuses on toning the pelvic floor and narrowing the abdominals.





If you've never done Classical Pilates on the mat, here is the place to start!